About Fandom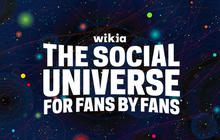 Fandom operates the world's largest network of collaboratively published content on the web -- made possible by admins like you. Thank you!
We are home to over 400,000 communities for fans, by fans. Fandom is often cited as the best source of accurate, dynamic, and fresh fan-authored information that is fueling virtually all aspects of popular culture: console and mobile games, cable and streaming TV shows, music festivals, big movie franchises, major sporting events, anticipated book releases, fashion trends and DIY, food and drink recipes, and current events on an international scale.
Our History
In 2006, Wikia, Inc. was created from the minds of Angela Beesley and Jimmy Wales, the creator of the free online, open-source encyclopedia, Wikipedia. Jimmy and Angela realized they could use their MediaWiki technology to support the high demand of popular culture topics like video games, movies, books, comics, music, TV, and lifestyle topics including sports, food/drink, travel, and more. Reigning as its own business platform for collaborative media publishing ever since, Fandom has more than 200 employees worldwide and is headquartered in San Francisco, with offices in New York, Los Angeles, Chicago, London, Cologne, Tokyo, and Poznan, Poland.
Our Mission
Unleash the power of knowledge as influence. Fandom provides a trusted and customizable collaborative publishing platform on which everyone - really, everyone - can pursue a complete chronicle of what they know and love on subjects that range from video games, movies, TV, and books, to cars, cooking, crafts, education, and travel. By doing so, we empower the expert and satisfy the curious.
Enable personal and collective creativity. Our communities assemble on their own initiative and dwell as living, breathing entertainment destinations -- interconnected through a shared desire to create, collaborate, learn, and inform. The more you learn, the more you have to share. That magnetic appeal our fans organically generate is contagious and inspiring.
Distribute rich, original content. Collaboration is what makes Fandom's content unique. Our site supports powerful search engine discovery and complementary curation tools for video, photo, text, quizzes, and more. Fandom contributors and readers return again and again for real, useful information -- visiting an average of 4.8 times per month to consume an average of eight pages each visit.