Emitewiki2, also known as Ethan Whitted in real life, is an editor, administrator, and founder of various wikis. He has a huge passion for preserving information and wants to continue doing it for the rest of his life.
Fandom History
Emitewiki2 began editing Fandom (then Wikia) in 2011 during his cringy days on the Lego Star Wars Wiki. He really enjoyed it there and became an admin, editing the wiki with only one other active editor for a number of years. His original username was simply "Emitewiki" but he was accidentally logged out one day and forgot his password, so he created a new account with the number '2' added on to the end.
Emitewiki2 eventually moved to the Nitrome Wiki where he encountered a great online community that he became friends with over years of editing. He was also elevated to the status of administrator on this wiki, and continued to lead the charge in documenting all information about Nitrome along with a team of other spectacular admins.
During all of this time, Emitewiki2 continued contributing to and founding other various wikis which he is too embarrassed about to share about here. The one ongoing project that he founded and is most proud of is the Chirs Hastings Wiki, which he continues to work on as a small side project to this day.
Around the time that he began attending university, Emitewiki2 began losing almost any amount of time he had to edit wikis and became very sporadically active. After a number of failed attempts at re-dedicating himself to the Nitrome Wiki, he eventually accepted that things would never go back to the way they had been in his younger and less busy years, and picked up editing the Marvel Wiki when he had available time.
In the present, he currently continues to edit the Marvel Wiki, making larger content edits that don't necessarily rack up a huge edit number. He has helped bring attention to different large-scale ways in which the community can improve their wiki for readers. He continues to be involved and monitor discussions about wiki changes in addition to just writing content.
Personal History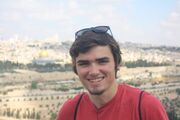 In real life, my name is Ethan Whitted and I am from Oregon, United States. I am quite social and am big into travelling, reading ancient literature, playing video games, learning history, and eating popcorn. Please ask me about any of those things! I guarantee I will always be down to have a conversation about any of those topics at any time. :) I have been obsessed with preserving information for a long time now, and editing wikis is a great outlet for that. I work in the tech industry (doing programming and product management) and also attend university at the same time. One day I'd love to actually work at Fandom! But until that time I will have to settle for commenting on their blog posts and attending their events.