The Wikia offices is located in the SoMa neighborhood of San Francisco. 
The Lobby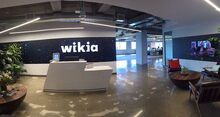 The Wikia office's lobby is complete with couches, tables, chairs, and a highlight reel from previous conventions and events, such as San Diego Comic-Con and E3, that Wikia has attended.
WallOfFandom
Near the front entrance lies Wikia's Wall of Fandom. It contains items from all walks of fandom brought in by Wikia Staff members. Each staff member based in the San Francisco office has an item from their fan communities sitting on those shelves.
Pods
Wikians sit in small groups arranged in pods throughout the office. From these pods, team members create new features, collaborate with communities, and work as a team.
The Kitchen Area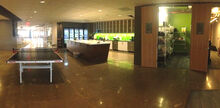 The kitchen area is very much a central gathering place for many of the staff members during lunch hours and after work. The office is stocked with all kinds of snacks and goodies.
The Conference Rooms
The Wikia office has over 20 conference rooms all with various names relating to different parts of Fandom. Some of the names include "Ministry of Magic," "King's Landing," "Narnia," and "Crystal Tokyo."